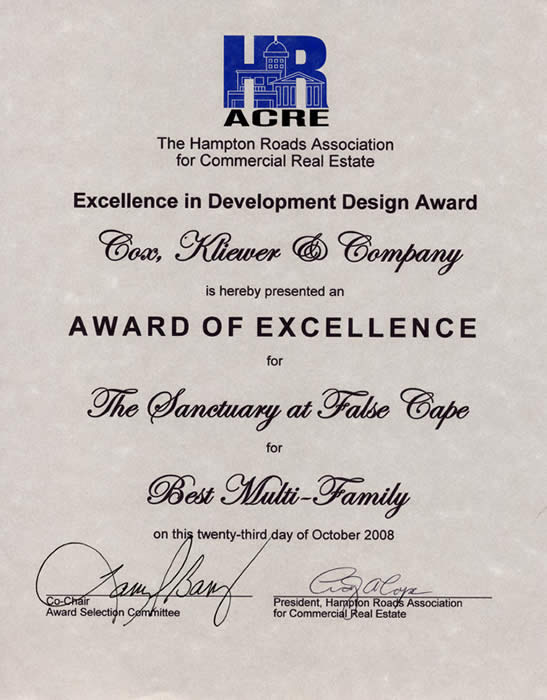 Hampton Roads Association for Commercial Real Estate
Excellence in Development Design Award
Award of Excellence for Best Multi-Family
The Sanctuary at False Cape
The Sanctuary at False Cape is truly a unique property situated on Virginia's Outer Banks bordered by the Atlantic Ocean, False Cape State Park, Back Bay National Wildlife Refuge & an undisturbed beach resort community for four miles to the North. The development consists of 248 units on a 7.02 acre parcel. Phase I of this luxury condominium community consists of 99 units; an additional 149 units came online at the end of 2007 in Phase II. The property was already properly zoned for its use. The facility itself, being on the Atlantic Ocean, was designed to resist sustained hurricane force winds incorporating many of the Miami-Dade County Florida code requirements where feasible.
The design demands for this property were unique from the onset in that the developers, recognizing the high percentage of summer rentals in the Sandbridge area, opted to develop the condominium documents allowing 30% of the unit ownership to use their investments as rental property. The property and its amenities had to be designed with year round residents and weekly renters in mind while not overwhelming the adjacent single family residences and taking advantage of the natural habitat surrounding the property.
As owners and guests arrive, they are welcomed by vibrant coastal colors and a covered canopy. Inside, they find a warm, modern concierge service area. Owners and guests alike may use the property's amenities, consisting of three pools, spa, two fitness centers, game, meeting and party rooms, two libraries, multiple outdoor grills, kids' club, commercial kitchen and swim up outdoor Cabana.
Much of the design for this community was as much external as it was internal, given its nature and use. The interior courtyard became our largest design asset. Originally designed to have the typical pool, spa and grassy areas, we quickly learned that the space could be designed for much more. With the assistance of a nationally renowned Norfolk based landscape architect, we were able to capitalize on every inch of the courtyard. The circulation from the guest services area in Phase I is down a bright atrium to this open center, complete with full outdoor kitchen, three gazebo's, wading pool, dipping pool, hot tub, decorative planters and unique water features with plenty of open space for deck chairs or for social mingling. Phase II's courtyard contains multiple outdoor grills, children's pool and large areas for entertaining off the facility's 2nd clubroom with commercial kitchen and large meeting room. And last but not least, the Cabana Bar links the two buildings. In addition to the pool and outdoor restrooms, it too has a complete commercial kitchen and bar for entertaining. Outside of the Atlantic Ocean, these common areas are the property's best assets.
The units were designed to provide high-end living for the year round residents and to lend a feeling to the renters of being at home. Each unit has 8' & 9' ceilings with integrated transitions, granite countertops, generous covered balconies, and sweeping views of the beautiful location. Other amenities include covered parking for two cars per unit with storage space and a building wide emergency generator. And plans are now underway for the build-out of an on-site restaurant.
We are proud to have been afforded the opportunity to work with such a unique location and of the resulting design.