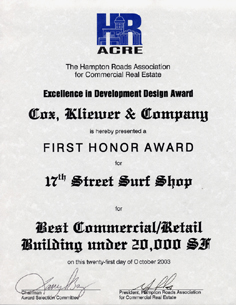 Hampton Roads Association for Commercial Real Estate
Excellence in Development Design Award
First Honor Award for Best Commercial/Retail Building under 20,000 SF
17th Street Surf Shop
It had a built-up roof that leaked so badly, repairs were no longer an option.
Then there were the four disjointed rooms, on two levels a ramp apart, making merchandizing much less than efficient.
Born as a convenience store, it had grown in three phases into a 7,500 SF surf shop and a City Landmark. But it wasn't inviting to the shopper, could not be renovated again, and was becoming impossible to maintain. It was time for a change, and the sales numbers had to get better in the namesake location of a 12-store regional chain. The new building could actually be smaller, but it had to be better in every way.
The retail schedule was a big challenge. The season begins each year in mid-May, and extends through the year-end Holidays, leaving just over four months to demolish, rebuild and merchandise.
Then there was the budget, and the desired image. A maximum of $110 per square foot for the building and sitework, to build a flexible, sleek 7,200 SF destination structure that exudes the spirit of the surf culture, the aspirations of the Resort Advisory Commission for the pivotal corner on which it stands, and the practical, day-to-day maintenance requirements demanded by a salt air coastal climate and a twelve hour a day, seven days a week operating schedule.
The answer was simple: a three-dimensional box, and total teamwork between the Owner, Architect, and General Contractor from the beginning. Every component and system was selected using four criteria: reasonable cost, aesthetics, ease of maintenance, and speed of construction. The curved, standing seam galvalume roof, supported on factory-standard bow trusses is a cost-efficient, wave-like form that provides a clear-span interior, a high profile from every angle, and immediate availability. A narrow, flat-roof section behind gives a shielded location for HVAC equipment above lower-volume stock and dressing rooms.
The two-color split face CMU laid up in a horizontal checkerboard, the clear aluminum storefront configured to avoid curtain wall conditions, the signature blue spandrel panels & roof struts that key into the 17th Street graphic identity were all carefully selected and value engineered. Blue-tinted glazing provides an unexpected spark, configured in vertical bands and clerestories that provide maximum display wall area, emphasize building height, and turn the store into a lightbox after dark.
Inside, the open sales floor is divided into five zones, the center of which is the Surf Department. A two-story deep blue surfboard display can be seen from Pacific Avenue. The clear-sealed, epoxy-coated concrete floor stands up to sandy sneakers, and the center cashier-accessory sales counter gives the staff a clear vantage point of the entire sales floor. Overhead, the open roof structure supports galvanized tubular ductwork that is engineered to snap together on-site, a system of HID and halogen track lighting for sales flexibility, and a wealth of hanging displays that draw the eye upward. All freestanding merchandise displays are mobile, allowing the store to be reconfigured as needed. A continuous stock room along the back of the building is accessible from all major departments.
Sitework and landscaping were designed to the standards of the upcoming Pacific Avenue and 17th Street corridor renovations, with a strong tropical attitude. Landscape uplighting creates a whole new atmosphere when the sun goes down.
The proof of the effort to value-engineer and pre-coordinate construction systems and materials was borne out by the spring 2003 calendar. Demolition of the old building began Saturday, January 12th. Despite poor soils, 30 tons of gravel was required to stabilize the rear wall footings, and 34 days of measurable rain within the first two months of construction, the new 17th Street Surf Shop opened Wednesday, May 14th, 2003. Sales in the first two months were more than 30% above the best expectations.
Sites in other coastal markets are already in consideration, using the Virginia Beach design as a prototype.